This week, we are taking a break from looking at just dice, and checking out a dice accessory we think everyone should have: a dice cup. Check out the episode here!
Now, we love dice cups, but have discovered that they are a little harder to find in our neck of the woods. Dice bags are everywhere, but rarely do we find cups in person, though a plethora are available from online retailers. When I (Roxy) first got into tabletop gaming, I had seen one or two make appearances on Tabletop and thought, "That's a great idea," as a leather dice cup produces a much more pleasing sound than the TARDIS cup from my nephew's copy of Yahtzee: Doctor Who.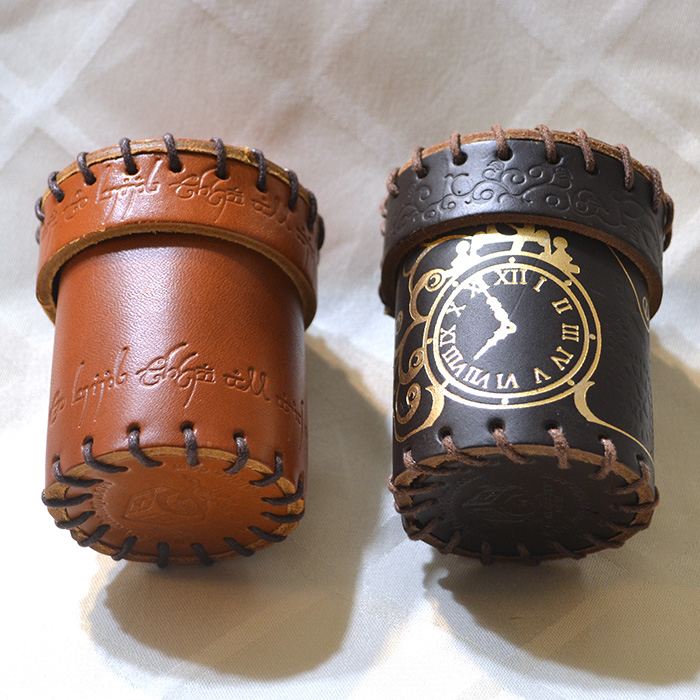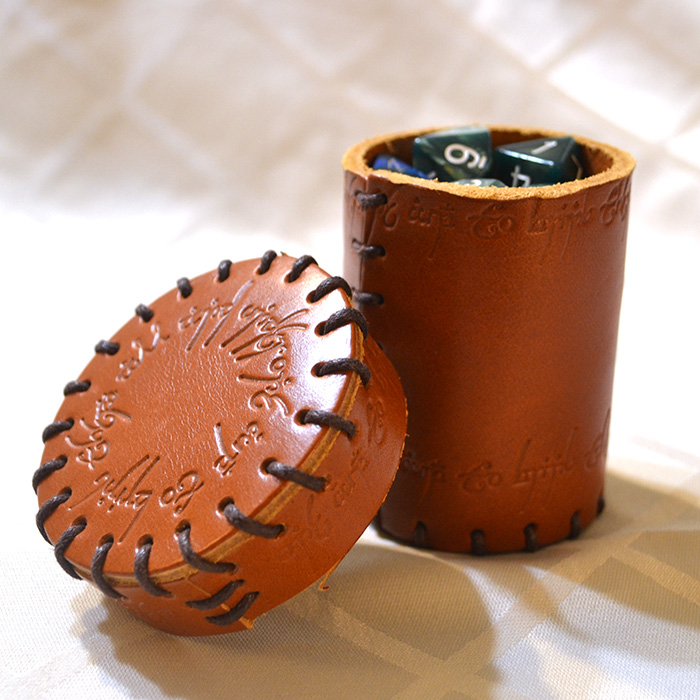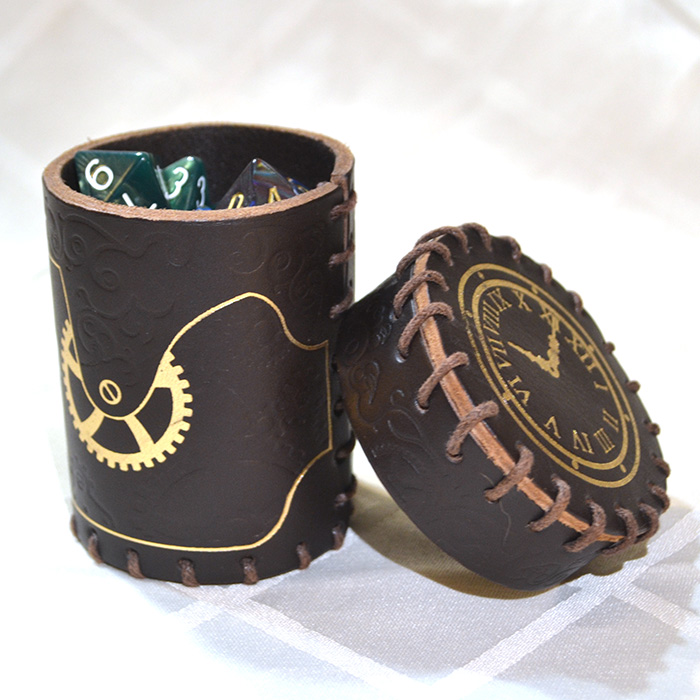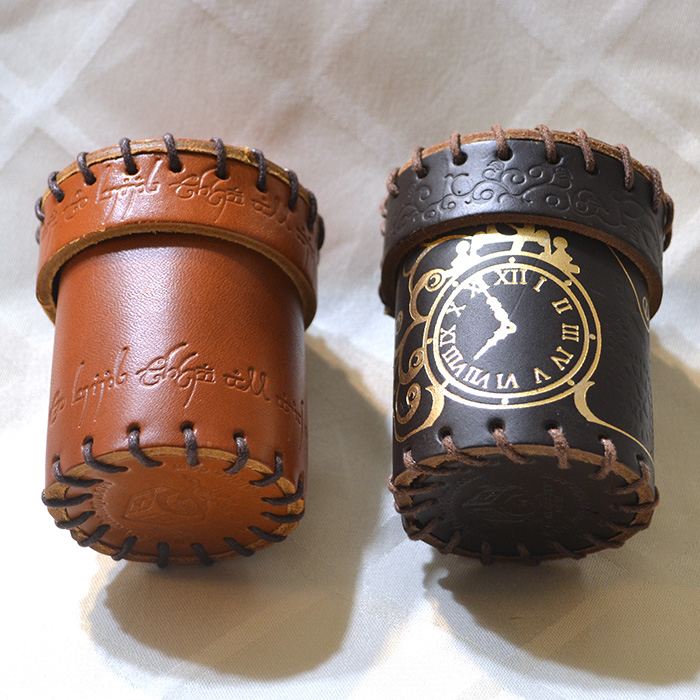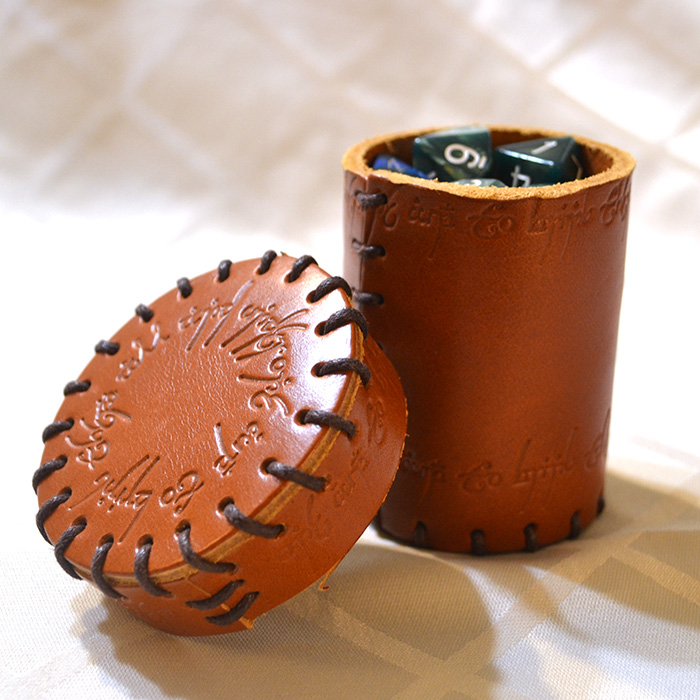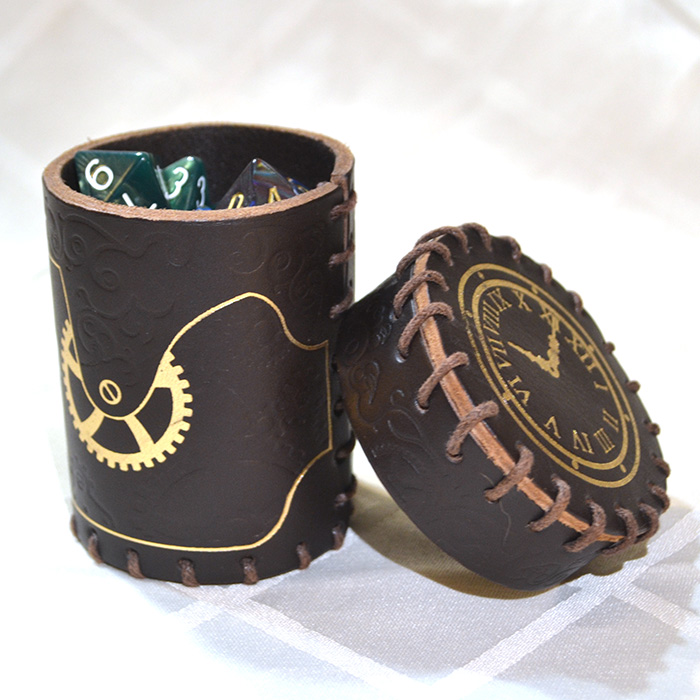 Suffice to say, when I finally found a display of some, I was in love. In fact, it was on a date with John in Dallas in 2015 for my birthday, that he took me to Madness Games and Comics in Plano (heck, yes, we went to a game store on a date; it's what we do; check out John's post on his old blog about the store) and we found several offerings from Q-Workshop in their stock.
You might be familiar with Q-Workshop as they produce licensed Pathfinder, Call of Cthulhu, Infinity, and (now) Starfinder dice, as well as many others. In addition, the make dice bags, dice cups, and dice towers. The two cups that caught our eyes were a Brown and Gold Steampunk cup and an Elvish Brown Leather cup.
The leather is nice and thick for both the cup and the lid, both whipstitched and made to fit nicely, not too snug, but not loose. The steampunk cup is a dark brown with artwork printed on the leather in gold alongside some stamping, while the elvish cup is a rich ruddy brown with stamped Tolkien-inspired Tengwar characters. In researching for this episode, this particular Elvish variant is unavailable on Q-Workshop's website, but there are others with the same design on other leather options.
These cups produce a nice sound when used to roll, and hold a fair number of dice, about two or three seven-piece polyhedral sets, easily. We highly recommend these items, and if steampunk and Tolkien aren't your particular aesthetic, Q-Workshop offers many designs, some printed, some stamped, on multiple leathers. Check them out at the links below!
Do you have a dice cup, or are you a rolling purist, and use only your hands? Have you ever required their use at a table your were GM'ing to prevent dice slipping out of hands? What other dice accessories have made their way to your table that we should look at next?
As always, show me your dice, and I'll show you mine,
John and Roxy, Passionerdly.com
Get these dice cups!
Steampunk Brown & Golden Leather Dice Cup
Elvish Graphite Suede Dice Cup
Q-Workshop's Full Line of Dice Cups